OSTRICH LEATHER Handbags
Shop our wide range of Handbags , choose your favorite style and colour, to fit every outfit you love.
Shop Handbags
Ostrich Leather Shoes
We have launched our very popular Range of Ostrich leather shoes in assorted colours.
Shop Shoes
Quality Merchandise
I would like to tell you how very much I appreciate your wonderful service and level of professionalism you showed me during my recent online experience with Karoo Classics.  As you know, I have been buying from Karoo Classics for quite a few years, as I was introduced to Karoo during my trips to South Africa. I am so glad I was able to visit your shops and be exposed to such lovely workmanship and quality merchandise.  I bought in person and am now buying online, and am extremely pleased with goods and service. My family and friends have been recipients of your lovely goods and they are extremely happy with everything I have given them as well! I am a very satisfied customer of Karoo Classics and hope that others will be able to share in such an experience of quality goods and excellent customer service.  Thank you again and best to my dear friends at Karoo.
New York, USA

Excellent Client Service
Karoo Classics is my go-to for all things ostrich and croc - so much so that I order all the way from the USA! Their pieces are both edgy and elegant, can be dressed up or down and the colour variety is outstanding. The shopping experience is a delight, from excellent client service and communication, and a breezy ordering process, to the lovely packaging you receive when your pieces arrive. I can't get enough!
USA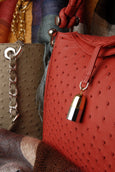 Can't Wait To Buy Again
I have been buying products from Karoo Classics Online for at least 6 years. I have always loved every product that I have received. Every order I have placed has been of the highest quality and at the best prices around. I will continue to be a loyal customer and can't wait to purchase my next purse, belt, and wallet. Thank you for producing such beautiful products and your amazing customer service.
USA

Reliable & Pleasant
Reliable and pleasant – this is how I reflect about the good South African products and the staff of the Karoo Classics' stores in Stellenbosch and Franschhoek. As a regular visitor to South Africa for more than 30 years travel restrictions this year stopped us from visiting the country. This did not stop me from shopping with Karoo Classics. Ordering online was assisted with valuable hints by the staff. Shipping to and receiving the goods in Germany worked perfectly in time for Christmas!
Germany

Wide Range & Highest Quality
Karoo Classics' exotic leather goods range is very wide and of the highest quality at a utmost competitive price. Having purchased wallets, purses cardholders, belts, bags and skins locally with them, I was impressed by their speedy and knowledgeable services to ship goods into Switzerland, too. The team always puts up a phenomenal on point support to make all buying experiences a total success.
Switzerland

Attention to Detail
We previously purchased items from their Stellenbosch store in South Africa 16 years ago, which I am still carrying today! We were so impressed with the high quality of their products.  Not having an opportunity to travel especially in these times, I was so excited to find that we could purchase online directly from Karoo Classics.  When it comes to Customer Service, there is none better than Karoo Classics.  They exemplify the gold-standard of customer service.  We were blown-away by Marzahn and Wilbar and how they made it so easy to order online with their attention to detail, communications and follow through. They emailed photos of items so you could see the different colours that were in stock.  They tracked the packages and sent email updates even before the shipper's notices were received. We have made several purchases online, each for multiple items.  Based upon our experience with Karoo Classics and their high quality products, several of my friends placed orders with Karoo Classics, each for multiple items.  With Easter, Mother's Day, Father's Day, birthdays and "I'm going to spoil myself" days coming up, they are already making plans to place additional orders….(and not tell their significant others!).
Texas, USA

Such a Great Gift
I recently received an ostrich skin belt from Karoo Classics as a gift.  I was so pleased with the one I received, that I had to order more belts in different colours for myself. The ostrich skin on the belt buckle itself was a great touch....The belts make such a great gift (at an incredible price) that I plan to order more to use as gifts.
Dallas, Texas, USA